Calculate Your hidden revenue potential
See how much revenue you leave on the table for your competitors and how you can increase your market share.
Do you want to know how much money you leave for your competitors?
We curate data in a powerful way to uncover crucial insights for hotels.
Combining hotel PMS data with benchmarking data, we identify in one view how much revenue you lose to your competition day-by-day over a whole year. The large amount often surprises hotel owners and management.
And yes, YOU CAN CAPTURE IT. This revenue is in your local market!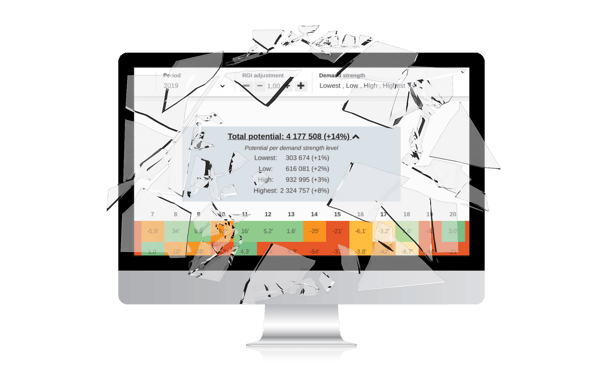 This is what you will get
See your potential
Demand Calendar will calculate and show you your market potential for the past 2+ years
Total confidentiality
Your data is treated with full confidentiality. Your data is exclusively accessible to you.
Secret insights
Our team will share powerful insights with you regarding patterns and trends in your data.
This is what we need from you
We have developed a full day-by-day analysis of demand and your success in capturing the demand. Upload your benchmarking data file and we will show you how much you leave on the table for your comp set.
Supported Benchmarking Data: STR, Fairmas, Benchmarking Alliance
What is needed: Day-by-day report of Occupancy and ADR for your hotel and your comp set, for 2017 until today.
ℹ️ Questions? If you are not sure how to extract the benchmarking data, Contact us. We can help you.